Air Conditioning Osborne Park
For the best quality service air conditioning Osborne Park and surrounds depend on, make it Air-Cond Installs WA. We offer commercial and domestic air conditioning services, giving you a variety of options to choose from. Our air conditioning supplies range from split type to multi type to mounted air conditioners. You're sure you're getting the best in the market for we carry the biggest brands in cooling (and heating) systems.
Split type air conditioning systems are perfect for homes. It's a cost-efficient solution one can have, especially if it's properly installed and well-maintained. Multi-type system uses one compressor to run multiple air conditioners in your home. This is perfect for homes having five rooms. Each room will have its own unit, allowing independent room temperature control. For a cost-efficient air conditioning system, mounted conditioners are best. Not only are they energy-efficient, but they come in stylish designs and different specs, giving you a multitude of options for your needs.
As a premier contractor of air conditioning Osborne Park and surrounds have preference for, we have become the go-to air conditioning contractor for homes, businesses, and other establishments that need the best cooling (or heating) system available.
Air Conditioning Contractor Osborne Park
Air-Cod Installs WA is the choice air conditioning contractor Osborne Park and surrounds have relied on since 1997. As a family company, you get the personal touch from brothers Wayne and Glen, both experienced air conditioning system professionals. You don't usually get that kind of reception from big companies.
Another plus working for you and our customers is our multi-step process in every project we handle. First is a consultation where you outline your ideas for the air conditioning system and your expectations. This step is crucial so we can clearly understand what you want. The second is the design where we come up with a concept layout that will be paired with the design you have in mind. Last is the installation itself. Depending on your air conditioning needs and the complexity of the design, you can expect several ways an installation can be done.
As the preferred air conditioning contractor Osborne Park and surrounds regularly ask for, our track record speaks for itself: we have installed over 18,000 split systems and 9,000 plus air conditioning for various businesses, churches, homes, and other establishments in the locations we cover.
Air Conditioning Installation Osborne Park
Air-Cond Installs WA provides air conditioning installation in Osborne Park and some of Australia's leading electrical retailers on an ongoing basis and have been for many years. We have installed air conditioning systems in thousands of homes, units, shops and offices. Air-Cond Installs WA have also done air conditioning service in many commercial and residential properties. We are happy to provide free onsite quotes for central air conditioning system and other commercial installations.
You can choose split type, wall mounted, or multi type, to give your home or place of business interior ambience, comfort, style and optimum efficiency throughout the year. We will have your rooms cool, dry and fresh in summer and warm, cosy and comfortable in winter, giving you interior ambience throughout the year. We offer commercial and residential air conditioning installation as well as  air conditioning supply and air conditioning repair.
At Air-Cond Installs WA, we take pride in offering reasonable air conditioning installation cost. Quality is our top priority in our supply, repair, and maintenance services. We offer a 5-year warranty on new installations from our range of air conditioners.
Air Conditioning Supply Osborne Park

Searching for branded air condition supply Osborne Park and surrounds have to offer? Check out Air-Cod Installs WA. We carry the following reputable brands of air conditioning units: Daikin, Fujitsu, Panasonic, and Mitsubishi.
When considering which split system air conditioner to purchase and install, our team can help you make the best choice. We will help you in calculating the size of your rooms and look at the estimated number of hours per day you think the unit might run for. We will give you a free, no-obligation, in-home quote and look at whether your installation is a standard and non-standard one.
We believe that quality should never be compromised. That's why these trusted brands are what we recommend to our customers. We have a range of split type, multi type and mounted air conditioners for your selection. So, why not take the stress out of making the best choice about your cooling and heating requirements, by letting our air conditioning supply providers at Air-Cond Installs WA help!
To know more about our services or the average cost of split system air conditioning, call Wayne (0417 094 668) or Glen (0418 905 066).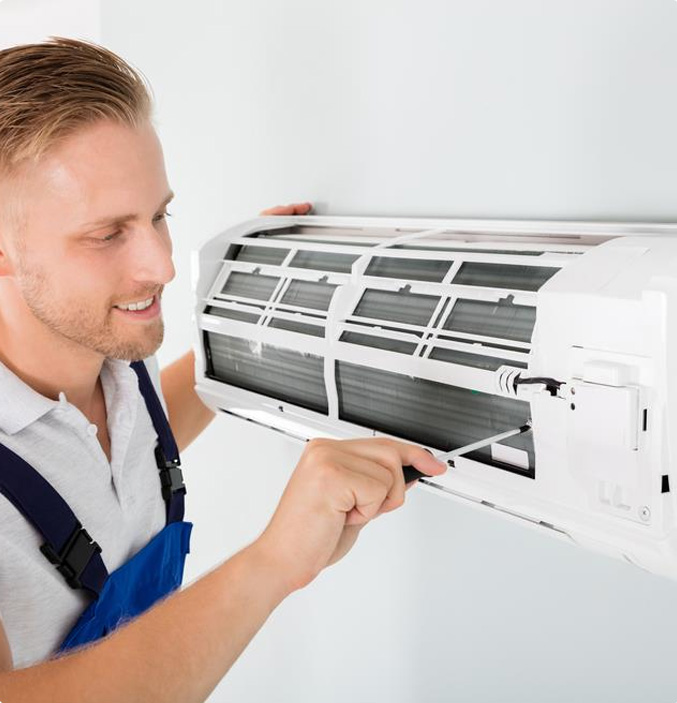 Why choose us?
We can install a range of energy-efficient and quiet running split systems from leading brands–
Daikin
Fujitsu
Panasonic
Mitsubishi
If you choose Air-Cond Installs WA to do your new split system unit installation we will assist with decommissioning your existing unit.
With every new installation we offer a 5-year warranty.
For more details about our split system air conditioning installation Osborne Park and surrounding areas, call