Heating
If you're looking for quality heating, look no further than Air-Cond Installs WA. We provide top-of-the-line split systems and ducted heating products and installation services for homes, businesses, and other establishments.
Snuggling during cold weather is good. But having comfortable heat in your home is better. Staying warm during winter will keep you healthy as well because cold weather affects the body's natural defences against viruses and infections. Proper heating in your home helps, especially if you have the perfect split system to provide heat in every room. Good thing we have options for you—split system, multi-split, and ducted heating systems.
Here are some of the considerations you need in choosing which split system is best for you:
o Room size – How big is the room? What's the height from floor to ceiling? The higher the height, the wider the room, the more energy is needed to heat the room.
o Insulation – Find out if the floor, walls, and ceilings have insulation. Insulation makes for a thermally efficient room.
o Orientation – Find out where the rooms are facing. Does the morning sun bring heat into the room?
Whatever the factors are, there are choices we will help you make and we're just happy to provide them.
Reverse Cycle Split System
All split systems (including multi-split systems) use reverse cycle technology which means the air conditioner can heat as well as cool any room where it is installed. It is one of the ways to inexpensively heat your home or office during winter.
Split systems are composed of two units: an exterior compressor and an interior unit. The two units are connected by pipes that carry the refrigerant. When the system is in heating mode, it extracts heat from outdoors and moves it inside through the pipes that connect the indoor and outdoor units. In cooling mode, the process is reversed: the unit extracts heat indoor and discharges it through the pipes and pumps the cooled refrigerant to the indoor unit to release cool air in the room.
Energy-Efficient Heating
Reverse cycle split systems provide the most energy-efficient heating and cooling, regardless of fuel source. As a matter of fact, it is 300 to 600% efficient, meaning, it can use one unit of electrical energy and convert it to 3 to 6 times as much heating or cooling. Some reverse cycle products can even achieve efficiencies of over 1000% under mild conditions.
They also cost less to run and generate less greenhouse gas emissions than other heating and cooling devices.
Split System and Multi-Split
Reverse cycle technology is used by both split and multi-split air conditioning systems. Depending on your requirements, you can opt for a multi-split system if you want to heat or cool a few rooms in your home.
Ducted Heating
If you want to maximise the space you have then perhaps you might consider ducted heating (or cooling). Usually, the central unit is located out of sight (most likely on your roof) and connected by air ducts to air outlets and sensors in every room. Ideal for heating and cooling the whole house.
To know more about our services or the average cost of split systems, call Wayne (0417 094 668) or Glen (0418 905 066).
Split systems are a perfect, cost-effective solution for heating or cooling your homes.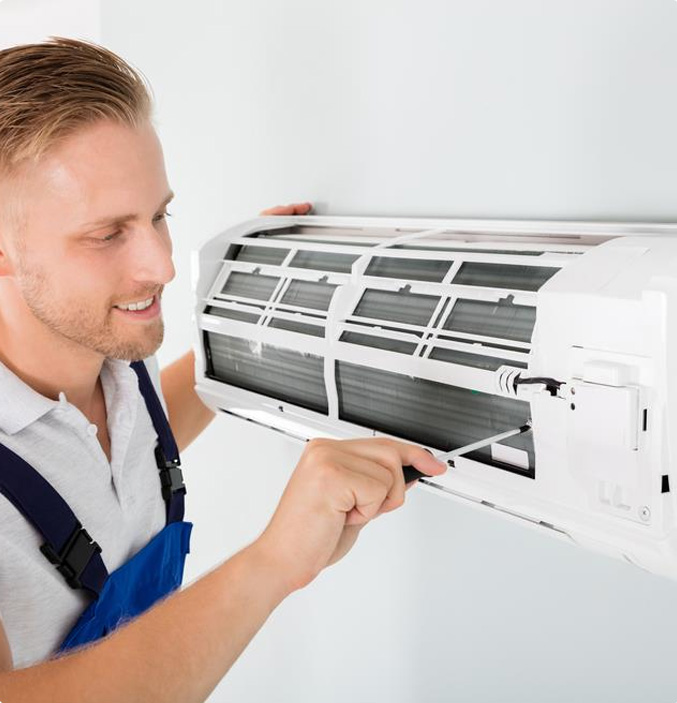 Why choose us?
We can install a range of energy-efficient and quiet running split systems from leading brands–
Daikin
Fujitsu
Panasonic
Mitsubishi
If you choose Air-Cond Installs WA to do your new split system unit installation we will assist with decommissioning your existing unit.
With every new installation we offer a 5-year warranty.
For more details about our split system air conditioning installation Joondalup and surrounding areas, call